Entertainment
I Can Go on A Date With Cristiano Ronaldo Because He's A Player That Catches My Attention—Georgina
I Can Go on A Date With Cristiano Ronaldo Because He's A Player That Catches My Attention—Georgina
Nollywood actress, Georgina Ibeh, is popularly known for her appearances in hit series 'This Life' and 'Super Story'. She talks about Nigerian sportswomen who won 12 gold medals at the Commonwealth, Cristiano Ronaldo and more in this engaging interview with PETER AKINBO
In the interview, she said Cristiano Ronaldo is the best player in the world and he is the only Player that that catches her attention, he is cute.
When she was asked; Would you go on a date with Ronaldo?
She said: On a platonic level, yes, romantically though, no way. I wouldn't want to have a relationship with a married man.
You can read the full interview on official website page of Punch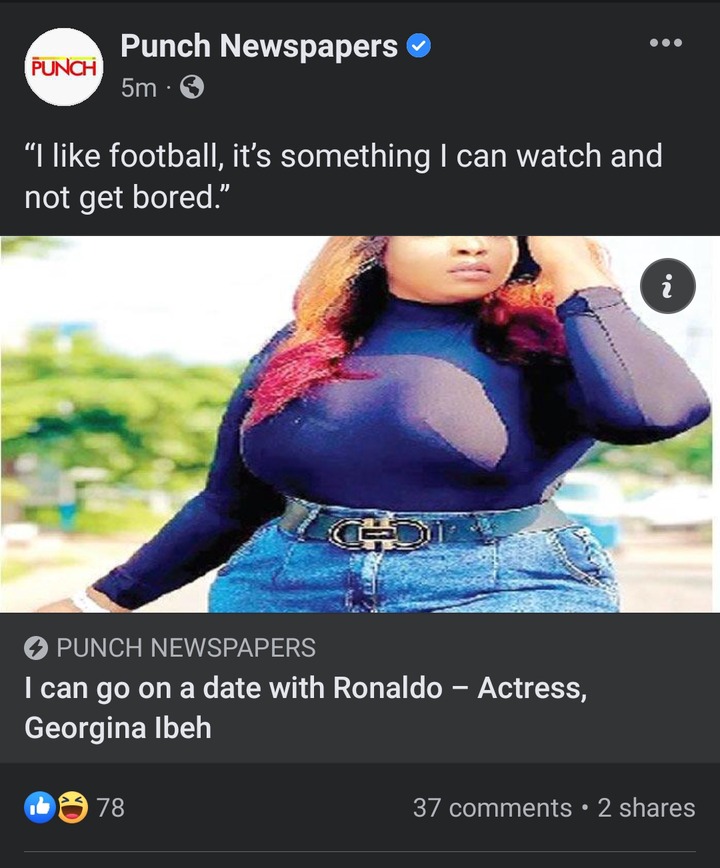 Many Facebook users have reacted to the headline on Facebook, Read reactions from three Facebook Users:
That'll be a familiar spirit not the real Ronaldo. Wake up and pray seriously.
I like football, it's something I can watch and not get bored too. But the Ronaldo part is acting.