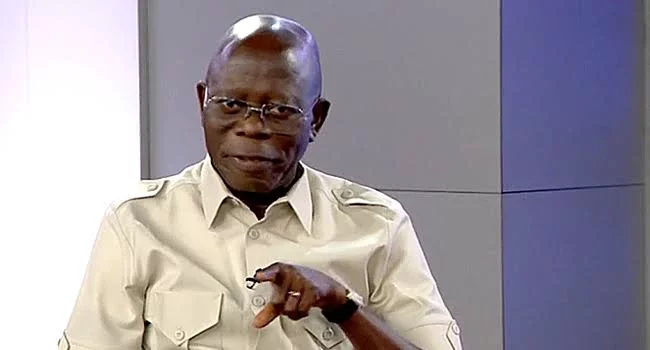 In an interview on Channels, former NLC President Senator Adams Oshiomhole spoke about his ordeal with the DSS when he was the President of the Nigeria Labour Congress.
Speaking concerning the recent tussle between NLC and the Imo government, Adams Oshiomhole described the tussle as a bit problematic.
The former NLC President spoke about how he was arrested by the Department of State Services and stopped from protesting against the then Federal Government led by President Olusegun Obasanjo because of the planned action to remove fuel subsidy at that time.
He said that during his time, he was resolute to see that the struggle for the welfare of Nigerian workers is not compromised.
"They dragged me on the tarmac and I had my cuts all over the place. They forcefully prevented me from flying and took me back to the DSS director general's office.
"I ended up being detained, I was taken away, and for two days at least 48 hours the NLC couldn't locate me. When eventually I was let out, with bandage on my hand with blood and all that, I told my colleagues, this blood will further reinforce my appetite for the struggle for justice.
"The issue is about the Welfare of the Nigerian workers in particular, and tye welfare of the Nigerian people in general. And the decision why I made the distinction between the two is because the Nigerian workers are formal members of the NLC. They are the one that form all the unions, the industrial union that constitute the affiliates of the Labour Union.
"And I said I will do everything possible to resist the temptation to rescind to make my brutalization an issue, but I will remain focused and even more determined to ensure that the issue between us and government which has to do with the welfare of Nigerian workers and working families is not compromised.