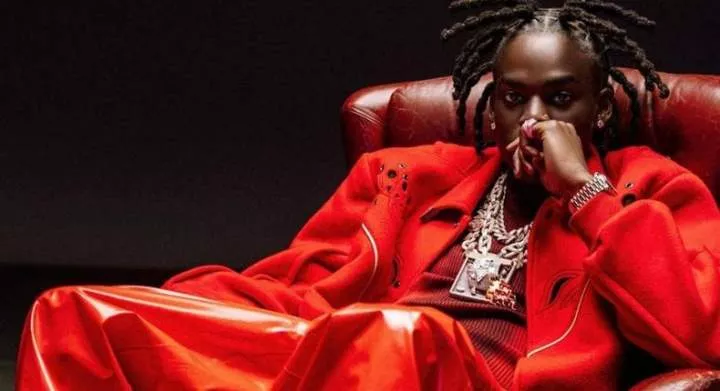 After enjoying a remarkable year of global success, Rema marked his superstar status in a sold-out show in the historic O2 Arena.
On a historic night, Rema dazzled listeners with an energetic performance of a collection of his hit singles across his impressive catalogue.
A notable feature of the night was Rema's choice of entry which had fans talking and reignited the allegations that his brand leans into satanism.
To kick off the show, Rema descended on a horse adorned in red and black. Rema's outfit choice was also black and red as the superstar wore a flowing black cape and a red mask fashioned after the famous mask of the legendary Benin Queen Idia.
On his second stage appearance, Rema was clothed in a red and black futuristic military gear attire while he rode to the stage on the back of a large Bat whose eyes were covered in red.
Rema's choice of stagecraft and aesthetics generated a reaction from some of the concertgoers who found it to have elements of satanism.
One particular female fan who attended the concert recorded a video where she encouraged other concertgoers to pray when they get home because of elements of diabolism depicted at the concert.
His O2 concert wasn't the first time Rema would be accused of engaging in satanism. The superstar wears a chain that depicts a burning church. His choice of jewelry sparked public reaction and even led the Ethiopian Orthodox church to write a petition stopping them from performing in the country.
While some of his choice of imagery and branding are esoteric and may come off as dark art to some fans, this is not new to Rema who has consistently shown his avant-garde style since breaking into the mainstream in 2019.
Rema has also dismissed the allegation of him being a satanist or a member of the Illuminati celebrity satanist cult. In a recent post on his Instagram story, he shared his Christian faith by stating that Jesus is King.